CERTIFICATION OF ELECTRICAL INSTALLATIONS
The PROFITEST MASTER SERIES are portable instruments able to perform easily, quickly and reliably the test required per IEC 60364-6. Some important features are:
The option to measure the earth resistance without ancillary probes.
Selective earth resistance measurement.
The capability to measure the line to earth loop impedance and short circuit current without tripping the RCD.
Measurement of contact voltage without tripping the RCD.
Testing of special types of RCDs.
Data storage, management and report generation.
        SPECIAL OFFER:  PROFITEST MTECH  

1.100,00 €

 ( + VAT )
---
CERTIFICATION OF PHOTOVOLTAIC MODULES AND STRINGS
The PROFITEST PV is a versatile portable instrument that can perform all the measurements requested by the IEC 62446 standard during the commissioning of a photovoltaic plant or periodic inspections. Among its main features are:
Acquisition of the characteristic I-U curve with measurements at capacitive load. High precision and fast (20ms) measurement.
Generator voltage up to 1000VDC and 20ADC
Calibrated irradiation sensor with integrated Pt1000 temperature sensor.
Measurement of peak power and internal parallel and series resistance with only one measurement and without entering the module manufacturer's data.
Measurement of ISC, UOC, PMAX, RS, RP.
Calculation and display of PPk, Upmax, Ipmax, Pmax, FF, Tmod, Tref, ETRMS.
Automatic conversion of momentary measured values to STC.
High safety thanks to included four pole load disconnector 1000V, 32A DC.
Easy touch screen operation.
Integrated module database.
Data storage, analysis and report generation with PC administration software.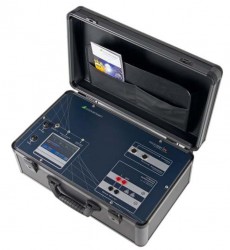 ---
The lightweight portable instrument PROFITEST PVSUN is an easy to operate instrument that can perform all routine and troubleshooting tests to a photovoltaic module or string:
Voltage up to 1000VDC
Current up to 20ADC.
Insulation resistance up to 20ΜΩ (at 250, 500 and 1000VDC).
Polarity test.
Ground fault measurements up to 1000VDC.
Testing of protective conductor continuity 0-10Ω.
Testing of short circuit current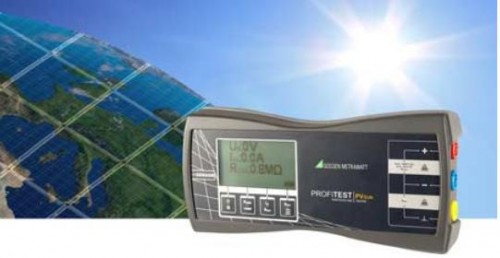 ---
TESTING AND CERTIFICATION OF EQUIPMENT
The portable instrument SECUTEST of  GOSSEN METRAWATT is an innovative instrument, with various configurations, reliable, accurate and easy to operate that can perform a series of tests and measurements for the certification of home appliances, inustrial equipment and medical diagnosis instruments.