ULTRASOUND MEASURING INSTRUMENTS
Extensive line of products suitable for:
Thickness measurement of metal sheets, synthetic materials, glass and ceramics.
Coating thickness measurement.
Corrosion thickness measurement.
Detection of flaws inside materials.
Phased array devices for weld inspection, crack detection, corrosion mapping, aerospace and composite testing.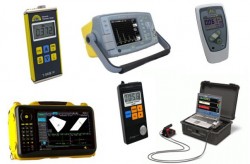 INFRARED, OPTICAL AND NIGHT VISION  CAMERAS
Great choice of models for:
Security and access control.
Navigation safety.
Thermal imaging for:

Preventive maintenance of power distribution panels, overhead transmission lines, bearings, seals, motors etc.
Remote temperature measurement.
Medical and veterinary applications.
Building heat losses estimation.
Fire detection.